This week we focus on how to being working with your chakras. Exploring the energy body of your being can be critical for maintaining an optimal level of health and wellness. Understanding where you hold tension in your body, and why, can help you revitalize, rejuvenate, and renew your being. This week we will cover how to begin to work with your chakras.
Start Working with Your Chakras
There are many methods and exercises you can do to work with your charkas. If you are just starting to work with your chakras you can follow 4 simple steps for beginning this wonderful journey of self-inquiry and healing.
Step 1: Guided Meditation. Begin exploring your chakras with a guided meditation.
Step 2: Chakra Analysis. Take a chakra survey to compare your meditation findings with general observations about the chakras.
Step 3: Retreat. Have an at home retreat or go on a meditation retreat.
Step 4: Continue your work. Read, learn, and continue working with your chakras over time.
Guided Meditation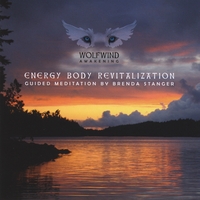 Personally, I feel that guided meditation on the chakras and energy field is one of the best ways to enter this exploration. After meditating, you can study the theoretical aspects of the chakras. I recommend that anyone who wants to begin working with the chakras do so from the place of intuition. To do so, get a meditation recording made for revitalizing the chakras and your energy field. One excellent recording is Brenda Stanger's Energy Body Revitalization. Set aside a time when you will have no interruptions and can take an hour for yourself alone. Make yourself comfortable, make sure the room you are in is warm, the surface you are resting on is comfortable, and that there are no distractions around you. If you'd like, you can lie down on your bed while doing Brenda Stanger's meditation. During this meditation, you can begin to see where your energy field may be off center, you can also begin to understand where trauma, grief, and/or emotional retreat may have happened in your lifetime. After doing this meditation once, you may develop a sense of where your chakra work needs to begin. If you do not have a clear sense after the first meditation, try doing the meditation again several times over the course of a week.
Chakra Analysis
Once you've developed an intuitive and honest understanding of your current energy body, and the state of you chakras, you can take a chakra test to evaluate your intuitive assessment of yourself against a standardized way of measuring chakra energy. One test that is particularly useful is made available for free at Ecelectic Energies. Here they offer a 56 question survey which aims to uncover where your chakra work needs to begin. Once you answer the survey the activity levels of your 7 chakras are assessed. After the survey is complete, you will find useful information on dealing with overactive chakras and/or opening the chakras that may be closed in your body. This test can help, if you are unsure of where to start working with your chakras after the guided meditation practice.
Set Aside Time for a Retreat
Once you have a better idea on where to start work with your chakras, you can deepen your healing by taking time for a retreat. You can experience the benefits of a meditation retreat at home or away from home. If you choose to go away there are many excellent meditation vacations. For those with less time and/or money, an at home retreat can be as beneficial.  For a great guide on how to have an at home retreat visit The Yogic Flower.
You can begin by setting aside a weekend for your retreat. On Friday evening, prepare your home for your retreat. Get the food you will need over the weekend, clean your home, buy some essential oils and any other therapeutic beauty products you would like to use. I personally like to buy fresh flowers such as red tulips to put in my home when I am on retreat. These remind me of grounding earth energy, and change my home to remind me that I am in retreat. I also place candles throughout the house, and use candle light instead of artificial light in the evening. This creates a different atmosphere in your home, and will help differentiate your space from everyday life. Make sure you let your family and friends know that you are on retreat and do not want to be disturbed. If you have children, make sure you've made arrangements for their care while you are in retreat. Prepare some healthy food for your retreat on Friday evening to last the next few days (see below). Finally, make sure you have a schedule or activity guide for your days on retreat. Below is the schedule I use for my at home retreats.  Once you are prepared, begin.
Sample Schedule for an At Home Retreat
| | | |
| --- | --- | --- |
| Friday- Start of Retreat | Saturday | Sunday |
| | Wake Up Naturally | Wake Up Naturally |
| | Hot Water with Lemon | Hot Water with Lemon |
| | Morning Yoga Practice | Morning Yoga Practice |
| | Breakfast | Breakfast |
| | Singing Meditation | Singing Meditation |
| | Snack | Snack |
| | Walk in the Forest | Walk in the Forest |
| Necessary preparations: Shopping, cooking,   cleaning | Lunch | Lunch |
| Being Your Retreat | Rest: Read, Listen to Music, or Write in your   journal | Rest: Read, Listen to Music, or Write in your   journal |
| Snack | Chakra Meditation | Chakra Meditation or Yoga Nidra |
| Chakra Meditation | Self-care: Aromatherapy, Body scrub and shower   followed by a deep moisturizer | Self-care: Aromatherapy, Bath with essential oils   followed by a manicure or pedicure |
| Restorative Yoga | Restorative Yoga | Restorative Yoga |
| Dinner | Dinner | Dinner |
| Rest | Rest | Rest |
| Bedtime | Bedtime | Bedtime, end of retreat |
Menu for Your Retreat
The food choices you make for your retreat are very important. Try to avoid caffeine and alcohol during your retreat. Also try to maintain a vegetarian diet if you can.
Sample Menu
Breakfast- Oatmeal with Maple Syrup and Fruit, Herbal Tea (such as peppermint)
Snack- Cookies with Tea, for a healthy chocolate chip cookie recipe visit our post from October 15th.
Lunch- Flavorful Lentils, Aromatic Brown Rice, and a Healthy Sprout Salad (see below)
Snack- Cookies with Tea or Nuts and Fruit
Dinner- Soup and Bread, for a healthy soup visit our post from November 6th.
Lunch: Flavorful Lentils, Aromatic Brown Rice and a Healthy Sprout Salad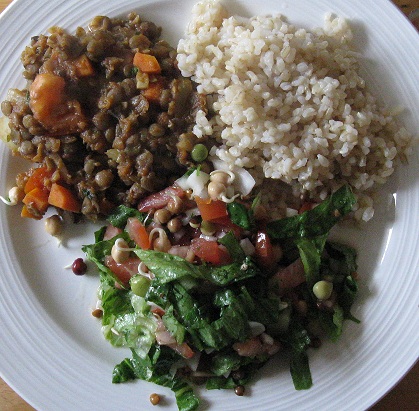 Flavorful Lentils
1 cup of brown lentils, washed and with stones removed
2 cups of water
2 tablespoons of olive oil
1 teaspoon of cumin
1 teaspoon of ground coriander seeds
1 onion
1 carrot, peeled and chopped
1 celery stalk, chopped
½ cup of mushrooms, chopped
1 tomato chopped
½ cup of tomato sauce or ½ can of tomato paste
Salt and pepper to taste
Freshly chopped coriander
In a large pot, bring the water and lentils to a boil. Reduce the heat and cook until the lentils are tender. About 45 minutes. While the lentils are cooking, warm up the olive oil in a saucepan on a medium heat. Add the spices and onion, stir until the onion is well covered in oil and spice. Sauté for 8 minutes. Add the carrots, celery, and mushrooms and sauté for 5 minutes. Set aside until the lentils are ready. Add the cooked lentils and tomato sauce and allow it to simmer for 10 minutes. Add salt and pepper to taste followed by fresh coriander.  The lentils can be stored in container and reheated as needed.
Aromatic Rice 
2 cups of brown short grain rice
4 ½ cups of vegetable stock
4 cardamom pods
1 whole cinnamon stick
1 star anise
4 whole cloves
Rinse the rice under cold water until the water becomes clear. On a medium low heat, cook the rice covered in simmering water with the spices for 45 minutes. Remove from heat, remove the spices, and fluff with a fork. The rice can be stored in container and reheated as needed.
Healthy Sprout Salad
½ cup of sprouts (I buy a local bag of mixed spouts, check your local health food market)
½ of a tomato chopped
½ of an onion chopped
1 large lettuce leaf chopped
1 tablespoon of fresh coriander chopped
1 tablespoon of olive oil
Juice from ½ a lemon
Salt and pepper to taste
Mix all ingredients in a bowl and serve immediately. You should make this salad every time you would like to eat it during your retreat. Do not store overnight. Serve all three dishes together for a healthy and hearty lunch or dinner during your retreat.
Serve all three dishes together for a health and hearty lunch or supper during your retreat.
How to wear your mala beads: Ideas for Chakra Exploration
Purity Chakra Mala Bracelet by Salt Spring Malas and Yoga Jewelry by jmedalye
If you are new to exploring your chakras, and you would like to work on improving the flow of energy throughout your central channel, you can use mala beads to remind you of the intention of your practice and to carry the protective energy of your meditation practice off the mat. The Purity Chakra Mala Bracelet was designed for the purpose of inviting in the healing energy of the universe into the central channel of the body. In the picture above, we feature the Purity Chakra Mala Bracelet. It is made from tourmalined quartz mala beads which is one of the best gemstones for aligning all of the chakras. These mala beads aid in purification and recovery from negative influences. Moreover, these mala beads help overcome self-destructive emotional patterns, and create a protective, purifying field around one's aura and body. Russian serpentine mala beads are used for color. Russian serpentine is also excellent for chakra alignment. As such, this mala bead bracelet is excellent for anyone beginning meditation on the energy body, the chakras, and purifying their central channel.
For more information on Tourmalined Quartz and Russian Serpentine see Robert Simmons (2011), The Pocket Book of Stones, North Atlantic Books: Berkeley.
Ongoing Chakra Healing
Once your retreat is finished you will have a greater sense of balance and ease, and you should feel refreshed. Your retreat may have revealed new areas requiring work in your yoga and meditation practice. To continue working with your chakras use a guide book to educate yourself on how to heal deeply. One excellent book is Working with Your Chakras by Ruth White.
Please join us next week, as we discuss yoga and meditation for your root chakra.