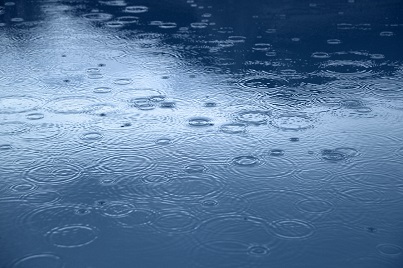 It has been raining here on Salt Spring for about a week. It has been grey, wet, cold, and damp. We have been stuck inside, our pets have been stuck inside, and many of our regular activities have been cancelled. I have found it challenging not to let these rainy days impact my spirits and my yoga practice.  Often weather can impact if we get onto our mats and if we have the motivation to practice. Thankfully there are poses, meditations, and mala beads can help us when rainy days dampen our spirits.
Yoga to Open Your Heart
If you find yourself demotivated and affected by the weather, rather than reaching for comfort food and hiding under a blanket (which is very tempting), on the groggiest days begin your day with a heart opening yoga practice. Even on the grey days of the year, yoga can help you feel lighter, brighter, and more positive. Poses such as bow pose, camel pose, cobra pose, fish pose, flip the dog and reverse warrior are fantastic for opening up the chest and filling your heart with breath and light. Try this great brightening practice with Jo Tastula if the grey skies are keeping your spirits down.
Meditate with the Rain
Rainfall presents a unique meditation opportunity. Rather than listening to a recording, try to listen to the sounds of the rain falling outside. In Awake in the Wild: Mindfulness in Nature as a Path to Self-Discovery, Mark Colman recommends that even when indoors we can meditate on nature. On a rainy day, sit in a spot indoors where you can see the outdoors, and observe nature behind a window. Notice what comes to view. Notice how the raindrops fall and hit the leaves or pavement. Observe how nature is changing moment by moment. Open a window and breathe in the fresh rain scented air. Listen to the incessant sound of the raindrops falling to the earth and just stay mindful of what the world sounds, smells, and looks like as it rains.  Sit in this meditation for 5 minutes, 10 minutes, or even 20 minutes. Use the rainfall as an opportunity to relax, breathe, and rejuvenate. This practice will bring an appreciation and gratefulness for the rain, and in turn will make you resent it less.
Mala Beads to Lift Your Mood
When grey weather impacts you mood, there are several gemstones that can help. Tiger eye, smoky quartz, and fire tiger eye, are all excellent mala beads for helping to lift the spirits. Tiger eye mala beads are believed to energize the body and help one overcome discouragement. If you find that overcast skies drain your energy and make you feel demotivated, tiger eye mala beads can help. Smoky quartz mala beads are excellent if rainy weather makes you feel spacey and out of sorts. Smoky quartz mala beads are excellent for reducing the feeling of being spacy and the inability to focus. Finally, fire tiger eye mala beads are an ideal gemstone for lifting one's mood and providing light within.